In addition to the best networking opportunities, e-shelf-labels as a value-added distributor, system integrator, service provider and consultant will answer all your questions about electronic displays and digital signage - THE omnichannel solution for trade, industry, events and room management. We are looking forward to present our broad portfolio of services and products that keep retailers competitive. We are happy to advise you on the development of custom-fit interfaces as well as other software solutions for your company and your field of application for electronic labels. You can meet us at the following trade fairs: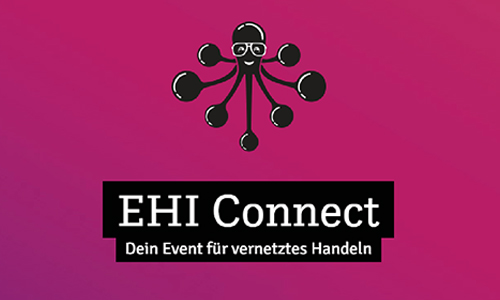 EHI Connect from 03. to 04.11.2020
Meet more than 350 decision-makers from the stationary and digital business at this year's EHI Connect 2020 on 03 and 04 November in Cologne!
This year, the industry event for companies in connected retail presents itself under a new name: The EHI Omnichannel Days turn to EHI Connect. Important market leaders and exhibitors from the online and offline market will meet for the ninth time and talk about new strategies and challenges in the retail industry.
As your partner for electronic price labeling and digital signage, e-shelf-labels will once again be presenting its product portfolio this year in DIE HALLE in Cologne. Get to know innovative omnichannel solutions for trade, industry, events and room management and benefit from our long-term experience in digital infrastructure.
The increasing integration of online and offline trade offers new options and interfaces for companies in the retail industry, but also presents them with challenges in the areas of e-commerce, omnichannel, payment, fulfillment and also marketing.
In practice-oriented lectures, workshops and exciting panel discussions, you will also learn more about current trends and get deep insights into the practice of the participating companies! Talk to us at the EHI Connect 2020 in Congress Centrum Nord in Cologne - we will be happy to advise you about our digital labeling solutions!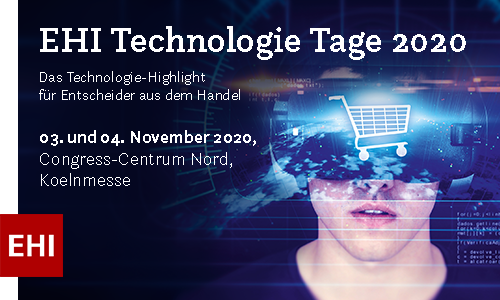 EHI Technology Days from 03. To 04.11.2020
At the Technology Days on 03. and 04. November at the Congress Centrum Nord in Cologne e-shelf-labels will show which future trends are currently in vogue! For several years now, top experts from the trade & industry sectors have been coming together to discuss innovative technology developments. Get to know our digital labeling solutions from price labeling to digital signage and get in touch with us.
The event with exciting practice-oriented lectures offers many business insights and thus forms the perfect basis for networking with more than 500 IT decision-makers from trade and industry.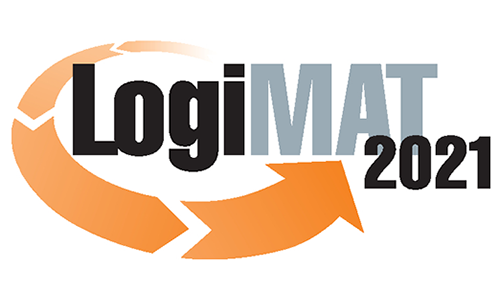 LogiMAT 2021 from 09. to 11.03.2021
From 9th to 11th March 2021 e-shelf-labels will present its new products as well as established digital solutions at the international trade fair for intralogistic solutions and process management at the trade fair centre in Stuttgart. In exciting lectures, experts from business and science will inform you about the latest trends in intralogistic solutions and you will also have the opportunity to actively participate in the discussion panels.
Every year international exhibitors, visitors and decision-makers from the industrial sector come together at LogiMAT to present the latest solutions for sustainable intralogistics. Under this year's motto "Smart - Sustainable - Safe" the focus is on topics such as the safe handling of data, the digitalization of work processes and smart technologies in the field of intralogistics.
In the field of sustainability, e-shelf-labels convinces with its range of electronic labels with which industrial processes can be easily digitalized. Thanks to the reduction of paper labels, warehouse labelling not only saves resources, but also saves time by constantly updating inventories. The e-shelf-labels team will also be happy to inform you about product innovations such as the Greyscale and Colour E-Ink Displays, which can be used as flexible all-in-one signage systems in industry and logistics.
For the management of electronic labels using your own SAP system, e-shelf-labels will show you the SAP ERP - E-Ink Label Add-on, which allows you to automatize internal product processes. At our booth you can inform yourself about the functionalities and advantages of this add-on and get individual advice.
EuroCIS 2021 from 16. to 18.03.2021
EuroCIS 2021: The Leading Trade Fair for Retail Technology - Meet us from 16 to 18 March 2021 at the Düsseldorf Exhibition Centre
EuroCIS is Europe's meeting place for retail technology. For the 15th time, visitors to Düsseldorf from 16 to 18 March 2021 can look forward to the latest IT solutions and innovations specially tailored to the retail sector. Among others, representatives from the wholesale and retail trade, online trade and system and experience gastronomy will be on site. Of course we from e-shelf-labels will be there again!
Due to the Coronavirus, the 2021 trade fair will take place in halls 3 and 4 of the Düsseldorf exhibition centre. Parallel to the EuroCIS 2021 the Energy Storage Europe, International Trade Fair for Energy Systems, Solutions, Services, will take place in hall 1 of the Düsseldorf Exhibition Centre. So there will be plenty on offer for visitors. The figures from the last EuroCIS in February 2019 show that the fair is very well received: around 13,000 trade visitors from all five continents came to the exhibition centre.
This year the focus is particularly on Retail Technologies. Get to know our new products in the field of digital price labelling, digital signage and e-ink displays. Our VUSION and NEWTON series labels take electronic price labelling to a new level: they combine individual design with a strong technical basis. This allows them to be adapted to your needs and used individually. With the help of software solutions such as the mobile payment solution Scan & Go, you can combine the advantages of stationary retail with those of online shopping and thus offer added value to your customers. Be inspired by the numerous digital possibilities at e-shelf-labels.
Please contact us on site and we will advise you on your individual solution at EuroCis 2021.