Software for electronic shelf labels and digital signage
Even relatively simple devices such as toys or cars all too often require software to function these days. This is a result of constantly increasing demands on our environment. Of course, the demands on a digital communication network between electronic shelf labels and the company's own software are correspondingly high. The infrastructure must be powerful, energy-efficient, fast and reliable. Can our software meet these requirements? Yes, it can - and much more. Because in addition to the necessary basic software and middleware solutions for our digital signage and digital signage displays, we also offer you various value-added features such as mobile payment systems or interactive product advisers.
Basic software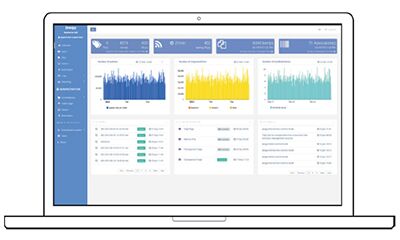 The basis of any functioning hardware is the associated software solution. Depending on the underlying system, professional and intuitive modules were developed to control the screens or ESL price tags. With digital signage and ESL working on either 2,4 GHz or 868 MHz, we offer appropriate solutions for both frequency bands. The software enables the administration of digital labels and the creation of content. In addition, the Label Software Jeegy offers additional functions such as reporting tools, GUI (Graphical User Interface) and user management.
Cloud Solutions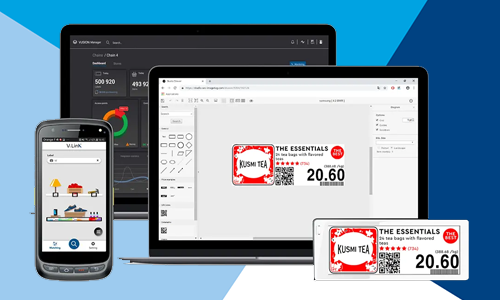 Many customers use cloud solutions to save hardware and be able to act quickly across multiple locations. Cloud computing provides applications, platforms, data storage, operating systems and other computing resources based on the Internet, thus eliminating the need for an expensive on-site infrastructure. Depending on the scope of the project, the use of the AIMS or VUSION cloud as a core system for your digital labels is therefore a good choice. The cloud is a reliable partner, especially in retail trade with several store locations, as it allows for central control of labels in all locations without detours. If numerous core functions such as the monitoring and control of digital price labels are cloud-based, it means that all information can be retrieved independently of time and location, and changes such as price adjustments and the creation of new content or designs can be made simultaneously for all or just for specific stores at any time.
SmaSS Middleware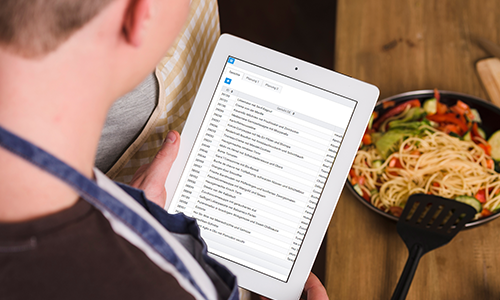 The SmaSS middleware provides another basis for efficient business with electronic price labeling and digital signage. It saves time and resources by reducing the complexity of the assumed display system and by addressing the displays automatically. Different data sources and different display technologies such as, for example, NEWTON or VUSION labels can be integrated to visualize the information. SmaSS is currently available for three areas of application: SmaSS Logistics for manufacturing and logistics, SmaSS Catering for use in food service and hotel business, as well as SmaSS Office for room labeling and room management. The SmaSS software can be used both as a cloud solution and on-premise.
Value Added Features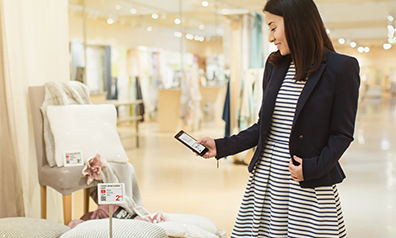 Software solutions are as diverse as nature itself. That's why there are value added features for numerous problems in manufacturing, trade or gastronomy, which turn displays into professional and interactive tools. With the help of mobile payment systems in combination with our digital displays and labels, you can turn your shelf into a self-service terminal where the customer can shop and pay directly via smartphone applications. Self-service is also the focus of our interactive product advisers: combine online and offline trading by bringing the advantages of online trading to a digital signage display. Automation and real-time monitoring are keywords that are indispensable in a world of IoT (Internet of Things). One system example is CAPTANA, a Smart Shelf Monitoring System that uses cameras and sensors to detect and report malfunctioning and displacements. We are happy to find a suitable solution for your problem and are not afraid of individual software development and the adaptation of existing signage solutions to your needs.
SAP ERP - E-Ink Label Add-On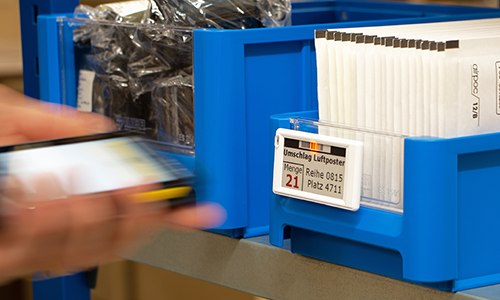 Especially in the manufacturing industry, it is important to be up-to-date in every process step. Data in real time and paperless processes are no problem with the help of electronic labels. The integration of label management into your SAP ERP system also simplifies the management and control of labels. The digital contents and workflows are transferred from the SAP system to the electronic displays via the SmaSS middleware. This supports your company and your employees during production, helps to optimize machine utilization, and offers you efficient traceability and labeling in your supply chain. This means transparency for you and your employees.