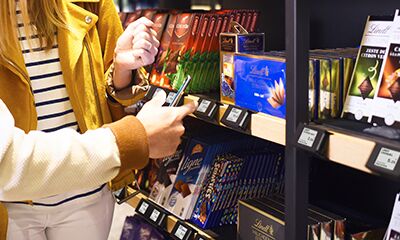 Overall solutions for the application of digital price labeling and electronic signage encompass electronic displays based on e-ink technology or digital signage displays, as well as the surrounding digital infrastructure such as access points and content management systems.
Article data on price or production processes are fed from the inventory management system into the special software and are transmitted by radio to the digital e-ink displays.

In addition to these solutions, e-shelf-labels offers additional supplies for electronic price tags, such as shelf brackets and panels.
Digital shelf labels and electronic labels
Digital shelf labels with e-paper-technology offer the ideal basis for integrating e-commerce in local retail trade. By providing NFC technology and smartphone apps, an omnichannel package is put together to enrich the customer experience. In addition, electronic shelf labels (ESL) contribute to waste reduction, process optimization and organization while increasing productivity. In addition to the retail trade, the e-paper displays are therefore ideal for use in industry, for example as electronic labels for warehouse or machine labeling. The E-Ink displays are currently available in sizes from 1.6 to 12.2 inches and, depending on the version, in the display colors black-white-red and black-white-yellow.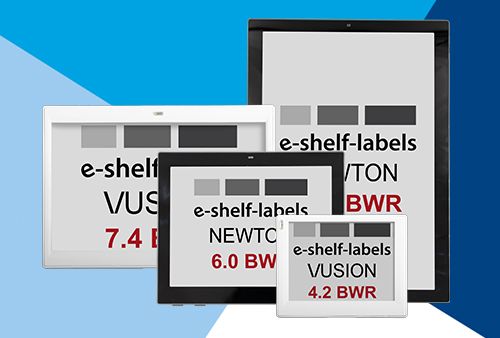 Are you looking for an easy and cost-effective entry into the world of digital labeling? We would be happy to advise you on all aspects of your ESL-project for your store, your warehouse or your production site.
E-Ink displays in grayscale and full color
E-Ink displays in grey tones and full color offer more variety and design freedom. They enable digital content to be displayed in 16 grey levels or 4096 colors. Colored E-Ink displays with Advanced Color even have a 32 bit color space that covers 32,000 colors. This makes the electronic displays based on E-Ink suitable for use as digital advertising or digital posters in shop windows or as production boards in manufacturing. For example, the labels can highlight due dates or critical process steps in color. Another difference between E-Ink displays and digital price tags, aside from the color display, is the available size range from 13.1 to 32 inches and fixed power supply with optional battery operation.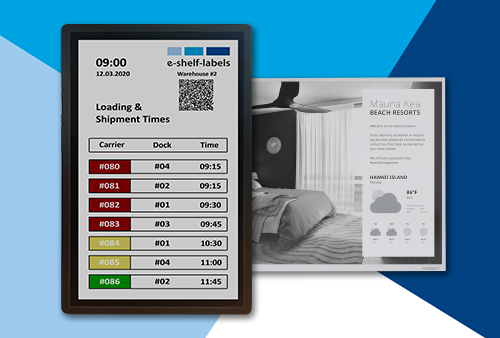 HD Grayscale E-Ink Displays
Digital Signage Solutions
It's hard to imagine stationary retail without eye-catching details: Digital Signage. Digital signage hardware includes any touch and non-touch screens that play digital content and thus enable interaction between customers and retailers. The content can be updated flexibly and centrally via content management systems. Digital signage includes both individual advertising and generic information such as news and weather display. Touch screens can also be used for shop navigation as interactive product advisers. In addition to retail, hotels and restaurants are also suitable areas of application for digital signage. Our portfolio includes video rails as an alternative to conventional (electronic) price tags, as well as digital customer stoppers and touch screens for use as electronic product advisers.
Digital Signage Solutions by e-shelf-labels
Digital Room Signage
In a modern working environment, it is essential to ensure flexible use of space and workstations. Digital door signs are an adequate means to optimize the use of office and conference rooms. The signs with e-paper displays are energy-saving and can individually display information such as current occupancy, upcoming meetings and a weekly calendar. The innovative ROOMZ solution also includes sensors that register the current occupancy of rooms and workstations and transmit this information to the underlying system and displays. Ghost meetings are now a thing of the past. The ROOMZ system is therefore particularly suitable for modern workplace models such as co-working and desk-sharing.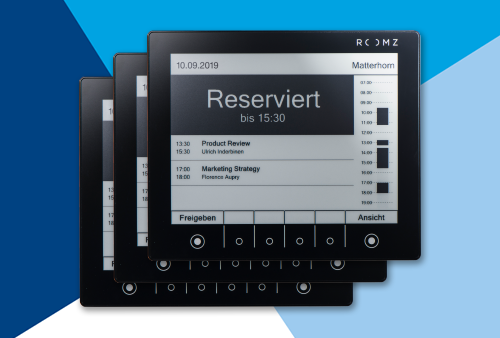 Digital Room Management by e-shelf-labels
Infrastructure
The basis of any technology is a solid digital infrastructure on which the system can be built. In this regard, we are guided by the important keywords of international trade: reliability, stability, longevity and dynamics. With leading manufacturers of e-ink labels and digital signage solutions as our partners, we offer complete multi-frequency infrastructures necessary to build a stable system for electronic pricing and digital signage.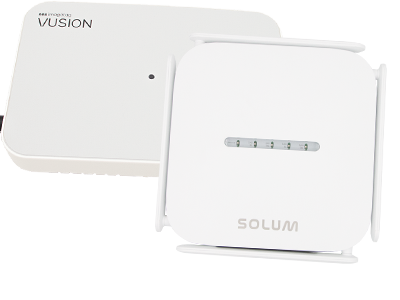 Supplies
Fastening elements for attaching digital price tags are as diverse as the retail trade itself. So simply contact us to find a tailor-made solution for electronic shelf labels that is customized to your needs. We also offer the Easylock system, which makes theft-proof installation easy as never before. From installation to future orientation, you have a strong and reliable partner in us.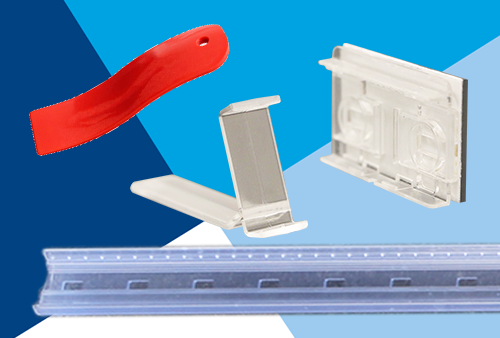 The appropriate software for your hardware
There are numerous software solutions, but they do not always fit exactly. We believe in integrated complete solutions from one source and therefore offer you exactly that. Our full service includes comprehensive advice on all hardware and software solutions. You can trust us to provide you with the appropriate basic software for your digital signage and labeling and, in addition, to inform you about useful additions with our Value Added Features or the integration of our electronic labels into your SAP ERP system. Our software options are not only the ideal tool for setting up and managing the multi-frequency infrastructure, but also offer a wide range of marketing tools, reporting systems and modules.