Value Added Feature for Digital Pricing: Scan & Go
Scan & Go – Payment at the shelf. Combine your digital price tags with a digital payment solution to offer your customers an innovative shopping experience in stationary retail trade and allow more time for your staff. In cooperation with SES-imagotag and Shopreme, e-shelf-labels offers a central payment solution in combination with digital labels - electronic shelf labels - which revolutionizes the shopping experience for customers and allows fully automatic billing.
Costumer advantages Scan & Go
Self-Scanning: Innovative shopping experience for your customers
Convenient payment: Mobile self-checkout
Paying on the shelf regardless of location and time
No waiting at the checkout
Product information at a glance
Self-Scanning-System: Contactless payment instead of waiting at the checkout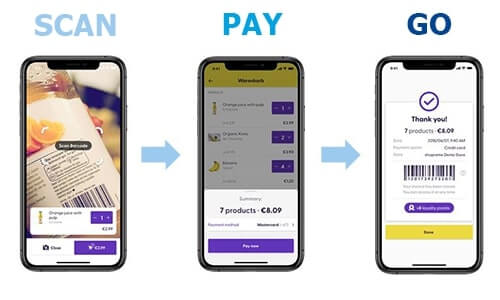 Mobile payment solution for digital price tags
If retailers use electronic shelf labels - digital price tags - they can enable customers to pay directly on the shelf. Using NFC or QR code, the customer scans the article directly on the electronic shelf label.
The buyer can then pay for the item straightly using the preferred payment method or simply place the products in the shopping cart and pay at any time, regardless of the location in the store. By using this integrated payment solution, there is no need to put in and out of the products or pay at the checkout, including long queues, which often lead to customers canceling their purchases.
Advantages of online payment in stationary retail trade
With self-scanning and fast payment at the POS, you get the advantages of e-commerce to stationary retail trade. As a result of the integrated payment solution, customers can pay easily, quickly and securely with their own smartphone. With the innovative Scan & Go payment system, waiting at the (supermarket) checkout is a thing of the past. Due to self-scanning, your customers pay for their purchase immediately during their product selection. This transforms shopping in the stationary retail trade as convenient, transparent and fast as online shopping - with the advantage of the touch & feel experience for the customer at the POS!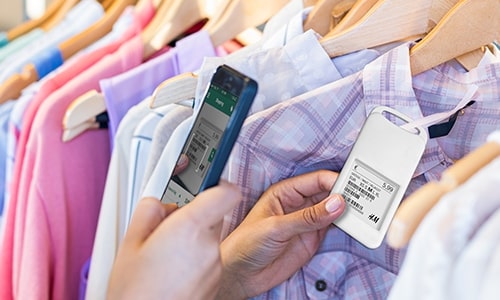 Scan your own purchases & save time - for customers and staff
With the mobile self-checkout, you not only save time for customers, but also for your staff at the POS. This provides more time for customer advice, which can strengthen your customer loyalty in the long term. At the same time, you can display customers detailed product information as well as recommendations for similar products from your market that might interest them. In addition, integrate coupons and discounts to make shopping even more attractive for your customers and increase your sales.
Retailer advantages Scan & Go
Minimization of purchase cancellations
Increase in sales
More time for staff: Strengthened customer loyalty
Simple integration of discounts/coupons
e-shelf-labels: Your partner for mobile payment solutions in integration with digital price tags
Whether QR code payment or NFC solutions, we offer you a wide range of mobile payment solutions that ensures your customers more convenience, for example by networking with fashionTAGs in the clothing sector or with digital price tags in the supermarket. We are happy to find the right solution for your individual application - just contact us.