Captana: Smart Shelfs for secure stock overview in real time
No more empty shelves for your customers: Reliable inventory management is the vital prerequisite for your business to avoid empty shelves and to remain competitive considering the flow of goods in retail and wholesale trade. In addition to the retail sector, an optimal and sure material provision is also required in the industrial sector: In order to be able to continue working processes continuously, precise inventory management is required due to the constant material flow. This full transparency of the stock overview in real time is guaranteed by the Automated Real-Time Shelf Monitoring "Captana" developed by SES-imagotag in connection with Electronic Shelf Labels.
Advantages Captana
On-shelf-availability: secure stock overview in real time
Minimization of out-of-stock situations
Displacement notifications
Cost-reducing storage
Geolocation in ShelfWatch app
More time for staff
Effective sales increase
Automated Shelf Monitoring detects vacancies/displacements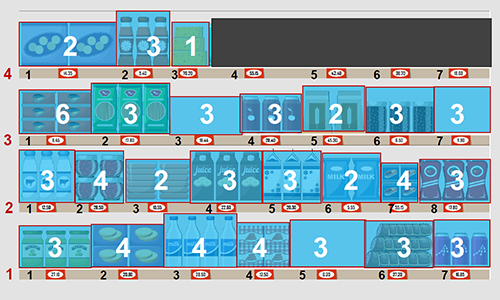 Secure stock overview
Clear link between digital shelf labels and product articles
By using machine learning, Captana is able to digitally detect and report vacancies and displacements in real time: due to electronic pricing, each item is clearly linked to a digital shelf label, so that the shelves can be scanned by sensors in the security camera.
Of the collected data, a planogram of the shelf status is created in real-time. This quantity of data can also be visualized in the form of a heatmap.
Time saving for your staff: Geolocation
Automatic shelf monitoring detects and marks shortages (on-shelf availability) directly in the visual display of the shelves. As a result of precise and separate comparison with each product, the position of the shortage is accurately and visually recorded. This eliminates the necessity to scan the digital label manually, as staff is immediately instructed by the ShelfWatch App on their smartphone and navigated to the point of action via geolocation.
Captana system architecture
Minimization of out-of-stock and prevention of unnecessary storage costs
Using the Automated Shelf Monitoring solution, out-of-stock situations are significantly minimized, resulting in a satisfied and returning clients. In addition to the reduction of inventories and overstocks, the aim of each company is to avoid the associated unnecessary storage costs. The "Captana" system guarantees comprehensive transparency in real time, so that inventory levels can be kept low without restricting delivery capacity. The On-Shelf Availability optimizes the disposability of the company according to the goal: Increase efficiency, reduce costs.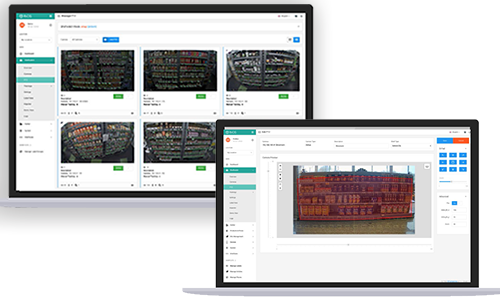 Automatic inventory overview in practice
Automated shelf monitoring in the supermarket
In the practice of a retail store, Automated Shelf Monitoring acts as follows: The customer takes a product off the shelf, at which time this message is sent to the employee's smartphone or Personal Digital Assistant (PDA).
On a digital card, the employee clearly sees which item needs to be refilled or re-ordered at which position in the store. In this way, the staff can react directly and immediately avoid empty shelves.
Would you like to integrate Captana into your infrastructure for a secure inventory overview? We will be happy to advise you on how to implement this value-added feature for digital pricing in your retail or industrial environment. Just click on the button below to contact us.