Captana: Smart Shelves for secure stock overview in real time
No more empty shelves for your customers: Reliable inventory management is the vital prerequisite for your business to avoid empty shelves, especially at the point-of-sale, and to remain competitive considering the overflow of goods in retail and wholesale trade. In addition to the retail sector, an optimal order management and supply chain management is also required in the industrial sector: In order to maintain continuous and undisrupted working processes, precise inventory management is required to handle the constant material flow. This full transparency of the stock overview in real time is guaranteed by the Automated Real-Time Shelf Monitoring "Captana" developed by SES-imagotag in connection with Electronic Shelf Labels.
Key Features & Benefits of Captana
On-shelf-availability: secure stock level overview in real time
Minimization of out-of-stock situations
Displacement notifications
Cost-reducing storage
Geolocation in ShelfWatch app
More time for staff thanks to efficient inventory management
Effective sales increase
Data-based inventory optimization
Quick and easy support for procurement planning
Logistics optimization
Automated Shelf Monitoring detects vacancies/displacements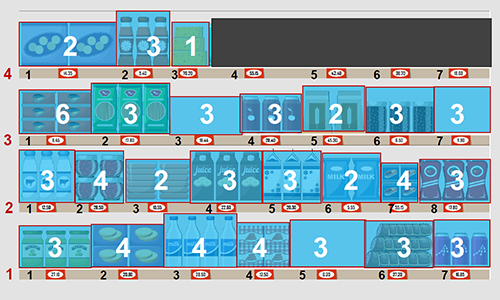 Secure stock overview
Clear link between digital shelf labels and product articles
Through machine learning, Captana, as an inventory management system, is able to digitally identify and report stockouts, dead stock and displacements on shelves in real time: due to electronic price labeling, each item in the warehouse or shop is uniquely linked to a digital shelf label, and can be scanned by sensors in the security camera.
A planogram of shelf availability is created in real time from the recorded data. This amount of data can also be visualized in a heat map.

Geolocaton: a real time saver for your staff
Automatic shelf monitoring detects and marks shortages (on-shelf availability) directly in the visual display of the shelves. As a result of the precise and separate comparison with each product, the position of the shortage is accurately and visually recorded and can also be displayed on handheld devices on-the-go, which is particularly useful in day-to-day operations in inventory tracking in warehouses or retail. This also eliminates the need to scan the digital label manually, as staff is informed immediately by the ShelfWatch app on the smartphone and are navigated to the point of action via geolocation, making the inventory management system very easy-to-use.
Efficient stock management to optimize procurement
The constant stock control also optimizes long-term procurement planning with suppliers for your company. The staff receives specific information about stock levels and customer demand. This makes it possible to identify demand forecasts for certain products and to manage future requirements of goods or spare parts. The concrete planning and tracking of all aspects of the supply chain and warehouse management also enables a development in the direction of sustainable inventory management without high costs.
Comprehensive inventory Management in only a few steps
Connect your product database with the shelf monitoring software
Install the ShelfWatch app
Set up cameras in the warehouse or business area
Attach electronic price labels to the articles
Test the automatic shelf monitoring
Monitor shortages and out-of-stock items in real time through the ShelfWatch app
Optimize your procurement planning based on collected data
Captana system architecture

Minimization of out-of-stock and prevention of unnecessary storage costs
Using the Automated Shelf Monitoring solution, out-of-stock situations are significantly minimized, resulting in satisfied and returning customers for big and small businesses. In addition to the reduction of inventories and overstocks, the goal of every company is to avoid the associated unnecessary storage costs. The "Captana" inventory management system guarantees comprehensive transparency in real time, so that inventory levels can be kept low without restricting delivery capacity. On-Shelf Availability optimizes the disposability of the company according to its goal: Increase efficiency, reduce costs.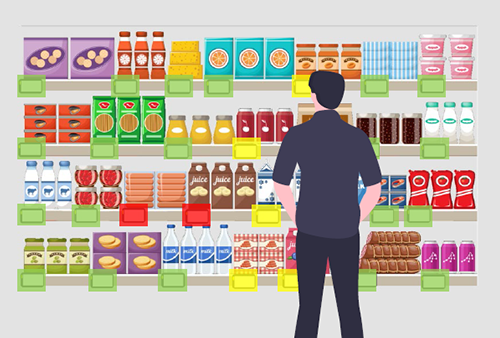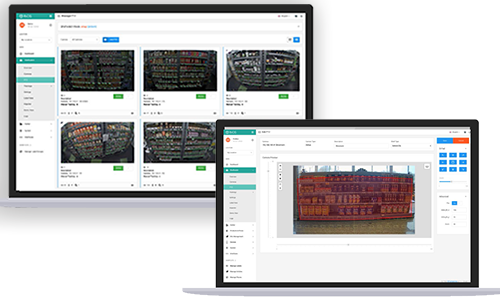 Automatic inventory overview in practice
Captana Automated Shelf Monitoring in the supermarket
In the everyday business of a retail store, Automated Shelf Monitoring acts as follows: The customer takes a product off the shelf, whereupon a message is sent to the employee's smartphone or Personal Digital Assistant (PDA).
On a digital map, the employee sees exactly which item needs to be refilled or re-ordered at which position in the store, allowing optimal inventory control. Thanks to the shelf monitoring software, requirements and reorder points are instantly visible, and the staff can react immediately to avoid empty shelves.
Would you like to integrate Captana into your infrastructure for a secure and efficient stock overview and shelf inventory optimization? We would be happy to advise you on how to implement this value-added feature for digital price labeling in your retail or industrial environment. Simply click on the button below to contact us or to learn more about digital inventory management solutions for more efficient inventory management or supply chain management.